Yamas to the only Greek on Brick Lane – It's Suvlaki, Shoreditch
You'll find Suvlaki at the Bethnal Green Road end of Brick Lane, a bit further away from the Hookah lounges and shiny Shoreditch 'glamour'. It is undoubtedly in good company as five doors down sits Blanchette East (hard to miss).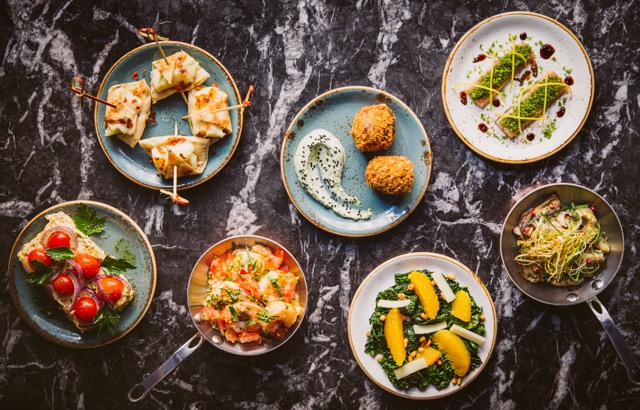 But Mediterranean food is not a new concept for East London – Kingsland Road is lined with the very best of Turkish, so what does a Greek restaurant have to offer that is extra?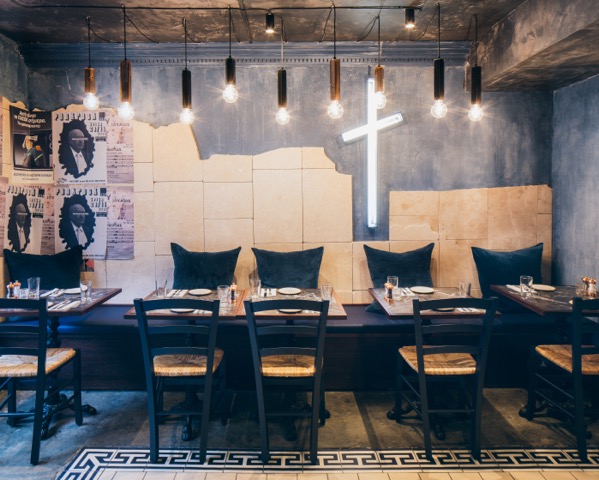 1) What's the vibe?
Well firstly, there is the assumption that Greek and Turkish food are the same. They certainly look very similar, but do they taste the same? Setting eyes on Suvlaki for the first time you'll note the white washed bricks, Grecian blue doors, ornate wrought iron frames and probably feel compelled to take one for the gram. Suvlaki's interiors are equally as seductive– think black marble tables and distressed slate blue walls – all brought together by the same teams who designed the interiors of Dishoom and Sketch. So far, nothing looks distinctly Greek.
2) What's the story?
But, set amidst spicy Brick Lane curry houses and institutions such as the Beigel Bake, Suvlaki stands out for its Greek-ness. Suvlaki first earned its reputation for Greek street food, which conjures images of juicy, skewered lamb, grilled octopus, the ripest of tomatoes and of course, Feta. Greek food seems the ideal complement for a sun soaked summer's day, not a drizzly December evening in grimy East London. But don't let preconceptions starve you, as in this case Suvlaki's co-founder Irene Margariti has come up with a wondrous idea, which could convince you otherwise.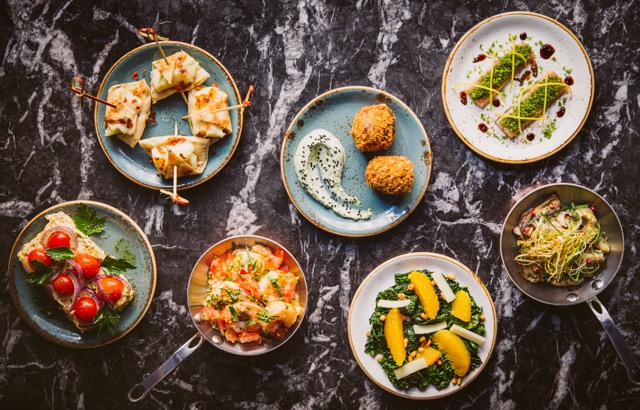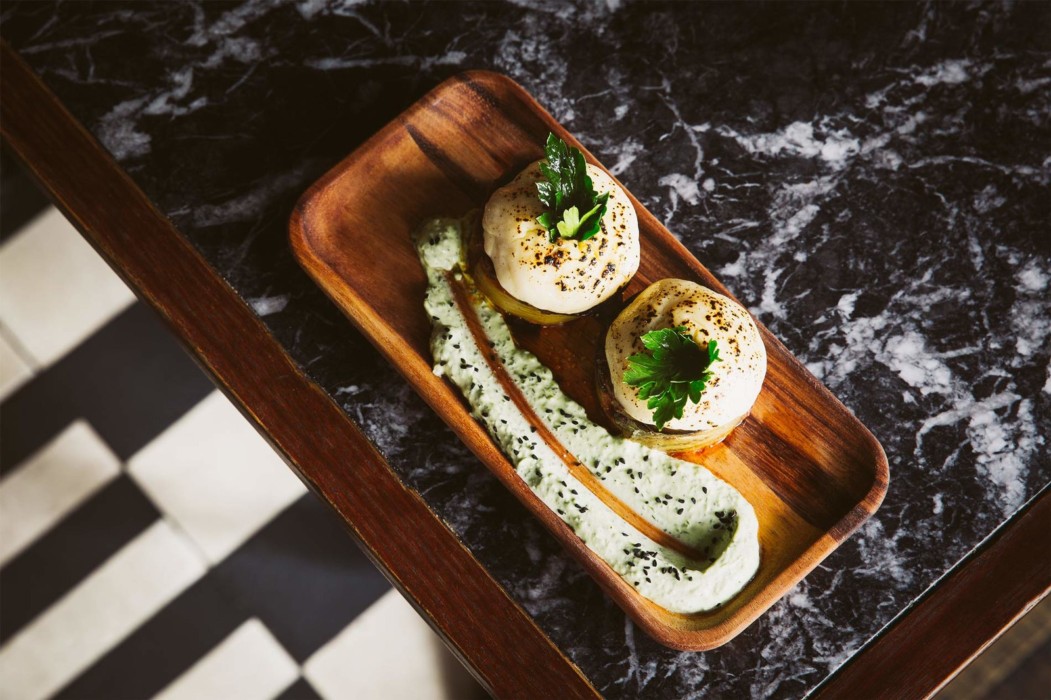 3) What to eat?
It is street food after all, so make sure you order an array of the sides, small dishes and Suvlaki. Don't be afraid to go with the classics here, Taramosolata and Roasted Aubergine with Feta and Pomegranate will not disappoint. Irene introduced us to the joys of Mastelo Cheese, grilled in Pita with Fig Marmalade as an alternative starter choice to the houmous. We followed this with several small dishes, the highlight being Prawns Saganaki – a delicious creamy Feta concoction, delicately laced with Dill. And most importantly, the Suvlaki itself –Wild Boar Sausage with Slaw is a hearty warming wintery dish, with earthy Mediterranean flavours.
4) Turkish or Greek?
Now we know we are talking about Greek food here, but there is undeniably a clear overlap with Turkish cuisine due to the countries' proximity and shared history as part of the Ottoman Empire. It seems a good time to talk about the abundance of incredible and cheap Turkish food already in East London- think Stokie's 19 Numara Bos Cirrik or Dalston's Mangal 1. Certainly Suvlaki has chosen a splendid location to introduce Greek food to the scene – however with prices like £11 for a Lamp Chop and £9 for Moussaka, it is clearly not street food prices compared with East London's finest Turkish restaurants. But remember, Suvlaki is a West-end girl at heart, bringing yet another touch of high end to Brick Lane.